After all the talk about Irish moss, I was curious to play around with this 'miracle food' and see for myself. The first time I used it, I didn't realize how much the moss expands once soaked and ended up with a gigantic amount. But no worries; Heathy and I did manage to use it in all sorts of recipes: chocolate mousse, Creme Caramel, Tiramisu and even some savory dishes such as the Silken Tofu from Matthew Kenney's Everyday Raw and Elaina Love's Mashed No-tatoes. However, I learned the hard way that Irish moss is very finicky. Rinse it in too warm water or soak it for too long and it looses some of its gelatinous quality. As a result, the texture of the dishes wasn't quite right. Ah well… Guess it will take some practice. Lesson learned; I sure will be more careful to soak a small amount at a time in the future, just in case I don't do it right.
That being said, something positive did come out of this mishap. The too-runny mashed potatoes gave me the idea to create the following pasta sauce. Unlike most raw sauce recipes which are primarily nut-based, it calls for only 1/4 cup of cashews or macadamias. Light and cheezy!
Serves 4-6
1 cup jicama, peeled and cubed
1/4 cup macadamia nuts or cashews
2 tbs Irish moss gel (see recipe below)
1 tbs lemon juice
1 tbs olive oil
1 tbs light miso
1 tbs nutritional yeast
1 tsp onion powder
1/2 tsp garlic powder
1/2 tsp salt
1/8 tsp pepper
Dash nutmeg
Water (optional)
Blend all ingredients into high speed blender. If necessary, add water until desired consistency is reached.
Serve on a bed of zucchini pasta.
To make Irish Moss GEL
As described by Elaina Love
¼ cup soaked, packed Irish Moss (moss should be soaked about 3 hours at room
temperature or in the refrigerator then rinsed well).
1 cup filtered water
1. Blend on high until smooth and creamy. No lumps!
2. Store the paste in the refrigerator in a glass jar for up to 10 days and use in ice creams,
gravy, veggie loaf, potatoes and more.
I made the dish into a casserole, topping the pasta and sauce with marinated mushrooms and popping it in the D for an hour or so.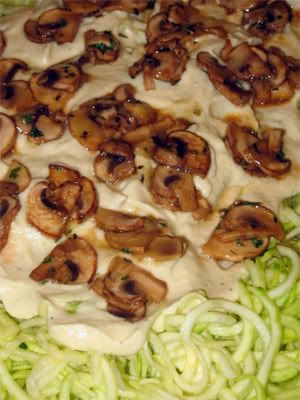 Enjoy!